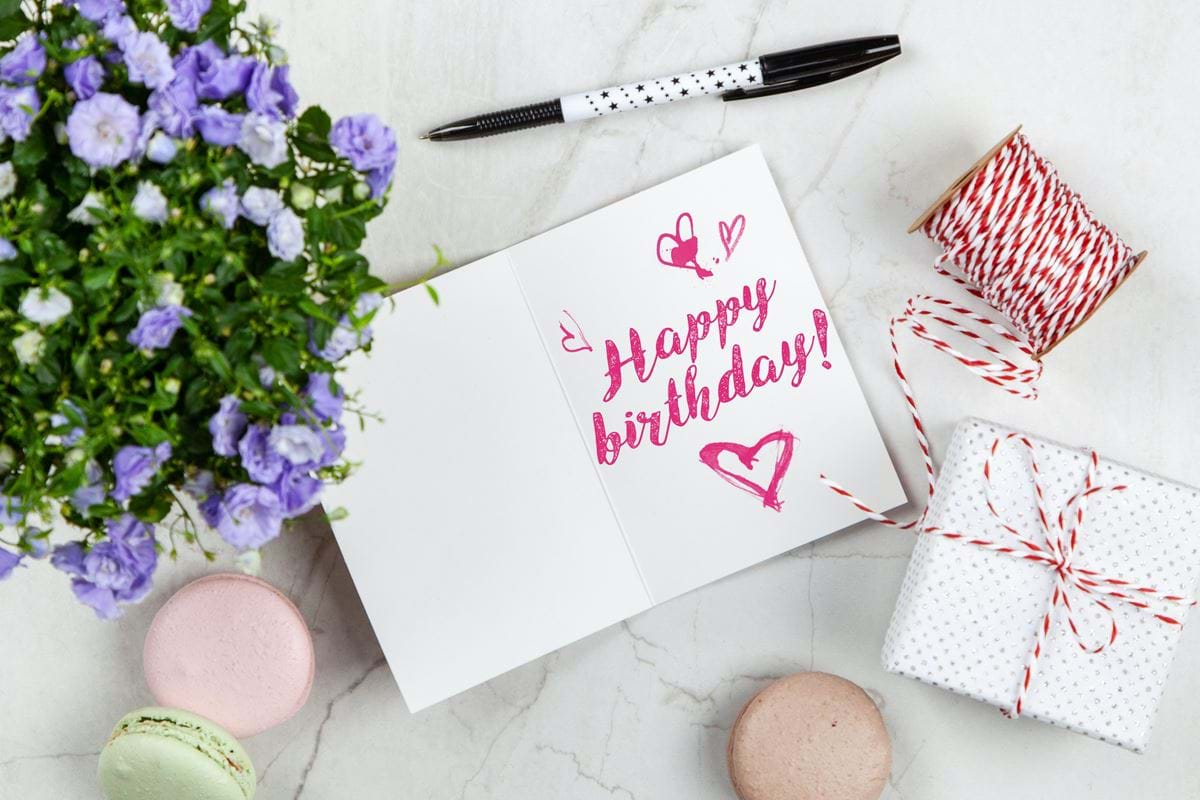 What to Write in a Birthday Card for a Friend
19 August 2021
•

10

mins read
Birthdays can be tricky for a number of reasons, but it's mainly because of the numerous decisions you have to make when you're deciding on what to do and how best to celebrate this very special annual occasion for family and friends.
What do you buy as a gift? Do you wish them happy birthday on Facebook, via text, AND send a birthday card? What did they get you for your birthday again? Is it their birthday on the day you think it is? Or even how old are they? Wow, how old am I!?
There are countless questions to ponder and let's face it, it can be difficult, even stressful!
And that's just the gift. Then you need to think about the card. You agonise over which to pick until you have the absolutely perfect card to suit them, and then it comes down to writing a message - cue a headache. Do you go really kind and pleasant? Or maybe a bit funny. Loving, or teasing? The whole thing can be so troublesome!
However, it doesn't need to be so difficult. Here at GreetingsCards.co.uk we are experts in the greetings card business, so have decided to help you out a little with a definitive guide on how to approach the writing of a birthday card message for a friend and what to say, including some examples.
Let's start with some of the things you need to consider before writing the card.
How Long Have You Known Them?
Relationships can be complicated, but the length of time you've known someone, or been close to them, generally gives you a good indication of the level of formality you need to employ within a birthday card.
If you've known someone for years, you will have a good idea of their sense of humour and what would offend them, so you might want to go with a funny birthday wish that is a little riskier or cheekier if you know they'll take it well.
This, of course, works both ways, and with a newly budding friendship, it might be worth keeping the risqué and funny jokes to a minimum, keeping it simple with a nice birthday message or something agreeable and inoffensive.
What Kind of Friendship Do You Have?
Another key factor in deciding on what to write is the kind of relationship you have with the recipient of a birthday card.
Are they a bit of a funny, quirky character whom you've shared a lot of laughs with over the years? Then something jokey and specific to your relationship could work wonders and for this kind of close pal, it could be a good idea to reflect on your good times together and reference them in the card message. Something special that will make them laugh is always good, and there's nothing like a personal birthday message that takes you to a trip down memory lane to ignite laughter and sentimentality at the same time.
Maybe it's a very different kind of friendship, you might have been through hard times together, or helped one another through difficult experiences in the past. Maybe they were there for you through a tough break up or money problems, maybe you were there for them. Perhaps they've struggled recently or have had some health issues over the years, and you've been there for them, or again, vice versa.
A personalised birthday card message in this situation could be a brilliant opportunity to let them know how much they mean to you, and how much you value their friendship. This means something longer and heartfelt, tailored specifically to the experiences you've shared together or helped each other through.
What is Their Personality Like?
This relates to how well you know someone, and how personal to make your birthday card message. If they're fun-loving and never take offence, maybe push the boat out a little and drop in some jokes and banter that might not be so well received by some of your other buddies.
If they're more straight-laced and formal, then this should be reflected in the message you leave them in their birthday card. It's probably best to avoid any questionable jokes if this is the case, and to keep it nice and simple with a message that reflects their nature, and your relationship with them.
It's really up to you, but it's important to take into consideration the kind of personality you're sending the card to, as the last thing you want is to offend somebody with a poorly thought-out card or message within.
Short and Sweet, or Long and Sentimental?
Taking all of the above into consideration, now you need to think about the length of the message you're going to pop into a birthday card.
If it's a new friend or somebody with a slightly dryer character, keep it short and sweet - no chance of offending and the gesture is there. You might think it's boring but if their personality is more down the line then they'll appreciate it all the more.
For those long-timers, you might want to get your thinking cap on and revisit some happy, or sad, memories, and jot them all down on paper before you commit to the card message. Take them on a journey if you feel they'll appreciate it, reminisce and chat about the past, present, and future in your sentimental birthday card message.
Again, it all comes down to the personality and kind of friendship you have with the recipient of the card, so you need to have a good think about the tone you go for and how long a message you write.
A jokey chum who doesn't take life too seriously will still probably appreciate a long message, but will more than likely have a joke at your expense and rib you for it, whereas somebody who you've been through a lot with or is more in touch with their emotions, might expect a long birthday message and not delivering that might be felt as hurtful and cause an unnecessary rift between you.
It can be a minefield, but if you take into account everything we've mentioned above, you'll be fine!
Birthday Message Ideas
Now we've covered the groundwork and the thought processes required for crafting the perfect birthday card message, let's take a look at some quick examples to see if we can get those creative juices flowing for you.
Let's start with some simple, straight to the point, classic greetings messages:
"The day is yours, enjoy it!"

"It's your special day, happy birthday and I hope you make the most of it!"

"Have the best birthday ever!"

"Enjoy your special day!"

"Hope you have a blast this birthday!"

"I hope this year brings you all the happiness in the world!"
These are more for those acquaintances in your life, ones you might not know particularly well, but well enough to send them a birthday card. Maybe you've known them a while and know they don't take birthdays all that seriously, but would still appreciate the thought that goes with a birthday card.
Then we get into the slightly longer forms with an emotional twist, using the above as a base, but introducing a compliment or two to make your friend feel all warm and fuzzy inside.
Sweet and Cute Birthday Message Ideas:
"I hope your special day is as special as you are."

"Wishing you all the love and joy you deserve on your birthday today."

"Have the best day ever, my best friend."

"Happy Birthday to the happiest person I know, enjoy your day!"

"Your special day deserves to be as perfect as you!"
These are for those you're closer to, and who you know will appreciate the extra sentiment attached to a nice compliment. Obviously, you might want to change around some of the wording depending on the person, but these act as a strong base to work from.
But let's not get too lovey-dovey, as not all friends are like that! Some friends prefer more jokey birthday messages, without going too overboard.
Funny Birthday Message Ideas
"You're bound to have a happy birthday, it's in the cards! (particularly this one)"

"I'm so glad you're in the world. Thanks for the whole "being born" thing."

"Ageing is compulsory, growing up however, is optional. Enjoy your birthday!"

"Age is just a number… make up your own!"

"You're gradually getting to the top of the hill. It's better than being buried under it."
And if you're really close and you know they can take a joke, you can go overboard by adding a few more inside jokes that the two of you might have.
Find the Perfect Birthday Card to Match the Perfect Birthday Message
So, as you can see, writing a birthday card doesn't need to be a stressful endeavour. Simply reflect on your relationship and have some fun with it! You know the person you're writing to, so you know what works best for them. Be it a short form, to the point message that works for anyone, or something more thoughtful or funny, have a think and write whatever comes to mind.
But let's not forget that you'll need an actual card to write your birthday message on – and that's where we come in!
We have an enormous range of birthday cards online on our website to match every kind of relationship and birthday card message. Browse our range of birthday cards for something perfect today.
The Greetings Card Company
---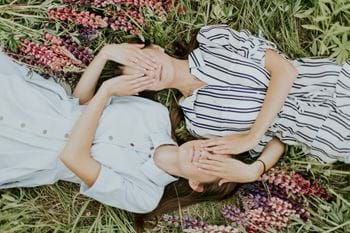 Discover how to celebrate Sisters Day 2022, including activity ideas, lovely gifts, and thoughtful cards to show your sister how special she is.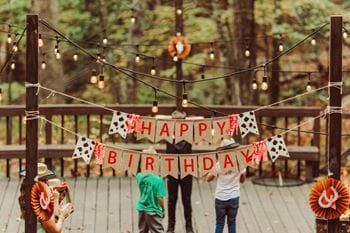 Create the perfect celebration for you or someone you love by learning how to plan a birthday party. Make sure to put an event to remember.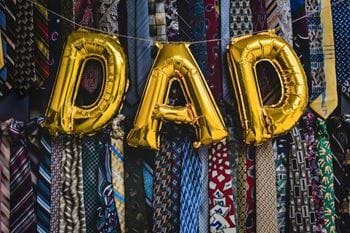 Struggling to find a Father's Day gift? Read this handy guide, full of great presents and cards for dads, stepdads, grandads, and uncles.
Sign up for the newsletter
Join the TGCC community and keep up to date with exclusive offers, latest arrivals & more